Rave Reviews
Please let us know how we did. We appreciate your feedback.
Click Here to Send Us Your Feedback!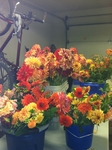 Amazing Flowers!
I wanted different varieties of orange dahlias for our wedding on September 15, 2012, and I am so lucky that we found Dahlia Divas! Carrie was such a wonderful person to deal with. She picked out some amazingly beautiful flowers for me, and was even kind enough to meet me close to home and deliver them. She also had great advice for arrangements, and our wedding was absolutely gorgeous because of her help. Dahlia Divas is a great business to work with, and the kind of wedding vendor that actually makes your life easier! There are a lot to choose from - but sweet people who really care about what they do and how your event turns out are the best! The price was also incredibly reasonable, and I had enough flowers for 20 tables, 6 bouquets, and masses of corsages and boutonnieres.
--Rachel Flack

Wedding Flowers
Carrie,
Thank you so much for the wonderful flower arrangements. The flowers looked amazing and were a great addition to all our wedding photos. With little direction from me Carrie was able to develop amazing Bouquets and other arrangements that were beautiful and perfectly fit our beach wedding. Thank you so much! I'll email you photos when I get them loaded.
--Ashlee Munsey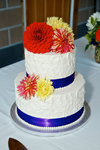 Wedding Flowers
Carrie was excellent! She met with us and gave us a lot of helpful advice. She really cared about finding out what we wanted and what types of dahlias we liked then suggested ones that were appropriate. Being able to see the flower pictures in advance on the website was invaluable!
She was even there to rescue us when we needed dahlias at the last minute - because the fridge we put some of them in was too cold and damaged some flowers the day before the wedding!! We would highly recommend Dahlia Divas as the highest quality vendor in (terms of flower selection and customer service) to anyone who wants to use these gorgeous flowers for their wedding, event, or just for their beauty!
--Joel and Eleanor Grogan

Carrie @ the Dahlia Divas was wonderful!
We were able to meet with her regarding our colors and ideas then actually go and visually see them growing and pick out the ones we wanted!
She then took the colors and quantities and delivered them to us one day prior to leaving town.
With refrigeration and safe transport they were a hit!
Just gorgeous!

I would highly recommend this fun, beautiful and friendly vendor!

Amber and Jon Reasoner
9.10.11

www.weddingwire.com/reviews/dahlia-divas-pleasant-hill/f991398fe765ae8a.html
--Amber and Jon Reasoner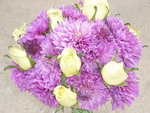 Dahlias!!
So many shades of purple! We had such fun creating our wedding pieces, with the flowers. Thank you so much for all your help!
--Sherrie Frantz
September 2009 Dahlia Wedding
We absolutely LOVED the dahlias in our bouquets, aisle decorations and table arrangements during our early fall wedding. The colors and variety were absolutely stunning and it was such a great pleasure to work with Dahlia Divas! Can't wait until next time...
--Joanna Blendulf