See other items in this category:
Dahlia Tubers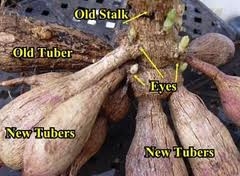 The Dahlia Divas planted 120 different varieties of dahlias for the 2017 growing season. We are a small growers in Pleasant Hill, Oregon
If you are looking for a tuber you can send me a note through the contact form.
You can email me a wish list anytime or give us a call from 9:00 am to 10:00 am PST or any time on Sunday and Monday. Recently, I started working full time. I will email you, or give you a call and let you
know what is available on your list,
For those you that have sent me a wish list, I haven't forgotten about you.
The sorting is now complete. I will email with your total, the shipping cost and what is available on you wish list. The plan is to start shipping next week on April 23, 2018.
Tuber Price: $5.00 each, plus actual shipping. I only ship within the US. Payment is not due until I get ready to ship your tubers.


We plant back what is needed for the next season, but there is always extra tubers available. Some varieties are limited or not available for the next growing season.
Varieties available for sale in 2018
AC Rooster, Barbershop, Bloomquist Dawn, Bahama Mama, Carment Fiesta, Crazy Legs, Carl Chilson, Childon's Pride, Frizzy Lizzy, Keith H, Mr Jimmy, Maniac, Nana's Kiss, Orange Cushion, Shea's Rainbow, Sugar Daddy, Swan Lake
.

Varieties NOT Available for sale in 2018

Apple Blossom, Apricot, Aurwen's Violet,Barbarry Dominion, Be a Sport, Blizzard, Burma Gem, Critchon Honey, Devon Seattle, Dustin Williams, Fidalgo, Splash, French Doll, Harvey Koop, Jasmine Pearl, Kari Blue, LATE, Martina, Newaukum Honey, Sassy, Thomas Edison, Valley Porcupine

Updated: 5/6/18